Light Curtains on demand : asimmetric in special configurations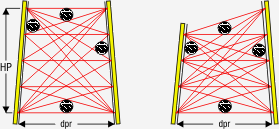 EL.IND.CO is in the position to manufacture lightguards with special conformations : asymmetric,curved,arched, at linear, arched, broken fan, bizone on customer demand.
The design department can study and offer the best solutions to meet your demand.
You can get in touch with us on +39 039-2457587 or by e-mail commerciale@elindco.it
On this page we are presenting only some special solutions among the several ones we have designed till now.